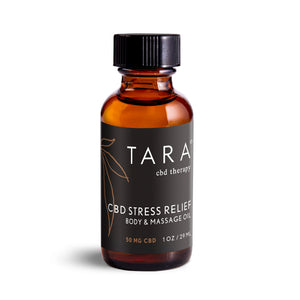 TARA
CBD STRESS RELIEF Body & Massage Oil
Regular price
$16.00
$0.00
Unit price
per
We've added 50 mg. of Organic Full Spectrum Cannabidiol (CBD) to our STRESS RELIEF Body & Massage Oil to increase its therapeutic benefits for relieving a stressed nervous system and calming anxiety. CBD STRESS RELIEF Body & Massage Oil will enhance the stress relieving benefits of any massage or treatment. Repeated application is necessary to ensure effective and long lasting benefits.
1oz - 50mg CBD

Larger size available upon request
Ingredients:
High Oleic Expeller Pressed Carthamus Tinctorius (Safflower)*, Expeller Pressed Helianthus Annuus (Sunflower)*, Cold Pressed Prunus Armeniaca (Apricot Kernel) and Expeller Pressed Sesamum Indicum (Sesame Seed) Oils.  Cannabidiol (CBD) Oil*. Lavendula Angustifolium (Lavender)*,  Citrus Bergamia (Bergamot)*, Salvia Sclarea (Clary Sage)*, Vetiveria Zizaniodes (Vetiver)*, Pi[er Nigrum (Black Pepper)* and Matricaria Chamomilla (Chamomile)* Essential Oils.  Vitamin E. 
*ORGANIC INGREDIENT

Key Ingredients:
 Benefits:
Organic CBD
Has the potential to reduce stress and generalized social anxiety.
May help Improve mood, gently calm an over active mind and switch off an over-engaged fight or fight response.
Essential Oils:
Bergamot
Reduces anxiety and stress and relieves tension. Positive and
uplifting.
Chamomile
Sedating to the nervous system. Calming and comforting. Helps insomnia.
Clary Sage
An anti-depressant that induces a sense of well-being and euphoria. Calming.
Lavender
Reduces psychological stress, anti-spasmodic, helps to normalize and balance the body.
Black Pepper
Warming. Anti-inflammatory and antispasmodic properties help release tension and soothe distressed muscles.g.
Vetiver
Calming, grounding and sensual.
---