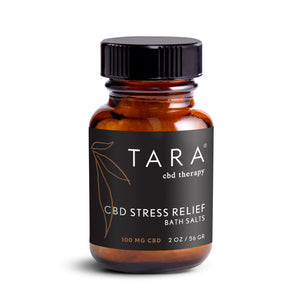 TARA
CBD STRESS RELIEF Bath Salts
Regular price
$36.00
$0.00
Unit price
per
For calming and releasing every day stress and tension and for helping the body and mind to unwind. STRESS RELIEF Bath Salts with 50 mg CBD, calming aromatics and quieting herbals, will help alleviate your daily stress overload and rejuvenate your sense of vitality.

2oz - 100mg CBD
Larger sizes are available upon request

Ingredients:
Sodium Borate, Sodium Carbonate, Sodium Chloride, Sodium Sesquicarbonate and trace minerals. Cannabidiol (CBD)*. Helianthus Annuus (Sunflower Oil)*. Herbal Extracts of Valeriana Officinalis (Valerian)*,  Hypericum Perforatum (St. John's Wort)* and Humulus Lupulus (Hops Flowers)*. Essential Oils of Cananga Odorata (Ylang Ylang), Lavendula Angustifolium (Lavender), Matricaria Chamomilla (Chamomile), Eucalyptus Globulus (Eucalyptus) and Myristica Fragrans (Nutmeg).
*ORGANIC INGREDIENT

| | |
| --- | --- |
| Key Ingredients: |  Benefits: |
| Organic CBD | Has the potential to provide anti-inflammatory, anti-spasmodic and pain relieving benefits for sore or injured tissue, muscles and joints. |
| Essential Oils & Herbal Extracts: | |
| Ylang Ylang | Calming, alleviates nervousness, tension and anxiety |
| Lavender | Balancing, relaxing, calming to nervous system |
| Chamomile | Calming, comforting, sedating |
| Eucalyptus | Clearing, decongesting, vitalizing, balancing |
| Nutmeg | Euphoric, soothing |
| Valerian Root Extract | Relaxant, antispasmodic, quieting, mild tranquilizer |
| St. John's Wort Extract | Supportive, restorative, anti-depressant |
| Hops Flower Extract | Calming, grounding, induces sleep |
---